This is a must-download game for the iPad & iPhone enthusiasts out there. If you're in for oil, that is black oil, this is a wonderful game for you. Feed Me Oil is a fun bubbly, slick game that you will definitely enjoy.
Feed Me Oil is featured in the iTunes' game of the Week.
This might sound a bit weird having oil as the main game. The app is full of lively big strange creatures that are starving for oil and its your duty to let the oil pass through the broken pipes and fill the monster's mouth.
Feed Me Oil has plenty of mind-boggling levels to test the gamer's mental ability. It provides series of hints and hints when you play it in the beginning levels.
Your job is to let the oil pass until it reaches the mouth of the big-eyed monster by using platforms, fans, windmills, and magnets to direct its path. There is a hint button at the upper left part to give you strategical positions for the platforms and other objects to have a direct control of the oil. Make sure you put the object on its exact location to let the oil freely move until it reaches the mouth of the creature.
There are many ways to solve the puzzles in each level, and you can even replay it if you want to get the perfect score.
Feed Me Oil is definitely a slick game, and after downloading it, I found myself hooked up feeding the big-eyed colorful monsters with black oil. I love the cool designs adapted from surreal art. It makes the screen so alive.
One thing I don't like is the background music, my ears got numb hearing the same sound repeatedly.
Feed Me Oils app received 4.5-5 stars rating from consumers, mostly they love the challenging gaming experience with its puzzle derived from physics logically activities and its brilliant designs and flashy artwork. Overall, this is a great game among the weekly AppStore apps featured this week.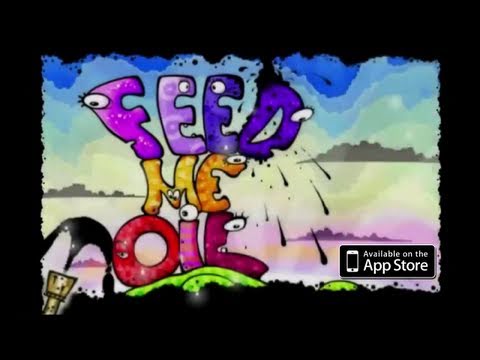 Related Posts:
Category: App Store, Apple, Apps, Gaming, iPad, iPhone, iPod, iTunes