A man by the name of Michael Pineschi submitted his new app for iPhone and iPod touch to the App Store just a few days ago. It's called "Phone Story", and it's a pretty graphic game involving the making of smartphones in China. 20 hours after Apple approved it, they changed their minds and pulled it from the App Store. The reasons include "violence or abuse of children" and "excessively objectionable or crude content" among other things.
So now that you know the app's violations, you must be wondering what exactly goes on during game-play. Well catching Foxconn workers as they fall to their death off of factory buildings and forcing children to work at gun point are just two examples. Despite these controversies, the 99-cent game was downloaded over 1,000 times in the 20 hours it was available on iOS. And the developer doesn't seem to have that bad of intentions since all profits go to worker organizations in China.
"It is in fairly bad taste," Pineschi states in an interview. He read news regarding the multiple Foxconn suicides a few months ago, and the idea for this odd game struck him instantly:
"I thought it would be a great idea to make a game, an iPhone game, to stop all these people falling out of the building, and shuffle them back into the factory to keep profits up."
So instead of relying on Apple for charity, Phone Story is now available in the Android Market thanks to its lack of an approval process. Pineschi even goes as far as to call the game "educational" in its description for depicting the "hidden costs of smartphone manufacturing."
Android Market Description:
Phone Story is an educational game about the hidden social costs of smartphone manufacturing. Follow your phone's journey from the Coltan mines of the Congo to the electronic waste dumps in Pakistan through four colorful mini-games. Compete with market forces in an endless spiral of technological obsolescence.

You can keep Phone Story in your favorite device as a reminder of your impact on this world.
All revenues from the sale of this app will be donated to organizations working to solve the issues mentioned in this game.
If you're interested in learning more, check out Phone Story in action by watching the demo video below.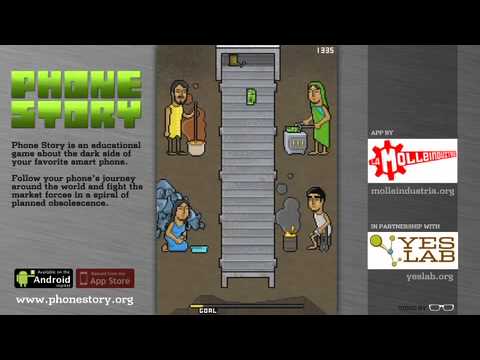 (via – intomobile.com)
Related Posts:
Category: Android, App Store, Apple, Apps, Apps, FAIL, Games, Gaming, Gaming, General, Market